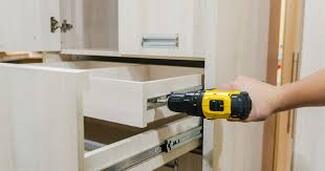 Furniture Delivery and AssemblyJoin hundreds of our happy customersATAX Furniture Assembly Services operaters throughout the german-switzerland.
We are an established Company with innovative and progressive ideas, building on experience gained over many years.
Our assemblers are professional people with considerable experience in working with their hands, mainly with wooden products.
They include a number of carpenters and cabinet makers and with the average time spent assembling flat-packs at over 10 years each, you can rest assured that you will be in safe hands with
ATAX
.
Our experienced assemblers have built furniture from IKEA, Home24, Micasa, LIPO, Conforama, OTTO`s, Schubiger, Interio, Reseda, XXXL Lutz, Expendio, Möbel Märkli, de Sede, Girsberger, Pfister, John Lewis, Habitat, Dreams, Homebase, Argos, Tesco, Mothercare and others.
When you get in touch with us, by phone on
+41 43 288 51 00
or online
atax.suisse@gmail.com
, we will then contact one of our trusted
ATAX
Team Members from your local area to arrive at your door at a time to suit you.
You will not have to wait in all day, or even all morning. You agree a time and we will be there.
Our installers specialize in home furniture assembly service help, office furniture installation, furniture storage and white glove furniture delivery in whole german-switzerland.
Our professional furniture installers and furniture movers are fully trained to put together Ready-to-assemble furniture at your home or office.
We service both residential and commercial customers.
With our extensive training in same day furniture assembly and moving; Our certified assemblers and office movers specialize in the installation of ready to assemble
home furniture
, and
office furniture
from all furniture name brands Manufacturers.
Our current coverage include Thurgau, Schaffhausen, Zürich, Zug, Luzern, Aargau, Solothurn, Bern, Basel-Landschaft, Basel-City. We service:
homeowners,
apartment renters,
interior designers,
new home builders,
apartment communities,
business offices,
hotels, restaurants, bars,
small businesses,
corporates,
property management companies,
real estate agent,
interior design firms,
construction companies,
college students and universities,
non profit organization,
retail stores
... and more.
Whenever you look for furniture assembly in german-switzerland you can be sure that our specialists can take care of everything from beginning till the end.
If you simply cannot find the time for the assembling of the furniture, our company is ready to help you with every detail.
We are very experienced and we put customers' preferences at first place.
When you have purchased a new piece of furniture but you meet difficulties with its assembly, we encourage you to contact our professional team of workers who will come right now.
We have chosen the best equipment for the furniture assembly that facilitates our work and helps for the safe assembly of all the furniture.
Our services are available both during the week and at the weekends to be able to meet all the requirements of our revered customers.
We are very organized in our work and we are able to manage with the furniture assembly in a fast and professional way.
Do not hesitate to turn to us, whenever you need our help – we promise not to disappoint you.
What we can currently offer to our customers is the following:
Assembly of a wide range of furniture
Trained specialists
Modern and reliable equipment
Very competitive prices
Excellent working schedules
Great customer support centres
Services in whole german-switzerland – Furniture Assembly
If you long for professionalism in every detail, contact our company right now. For furniture assembly in german-switzerland, we are here to help you.
Our trained specialists promise to treat carefully your furniture and to manage with its assembly in a second to none way.
Benefit from our competitive prices in german-switzerland and we are sure that you will be pleased with the final results.Our excellent working schedules are especially important for those of you that have busy working schedules.

We are expecting your phone calls right now and we are ready to take up with the furniture assembly right now.
​
---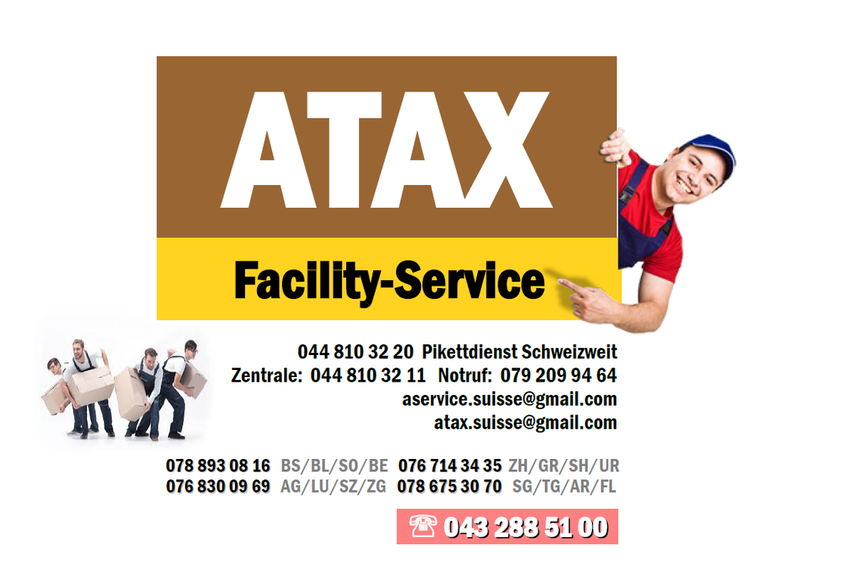 ATAX ist Mitglied der [A] Service Gruppe
044 810 32 20 Pikettdienst Schweizweit
Zentrale: 044 810 32 11
​Notruf: 079 209 94 64

aservice.suisse@gmail.com
atax.suisse@gmail.com

​078 893 08 16 BS / BL / SO / BE
076 714 34 35 ZH / GR / SH / UR
076 830 09 69 AG / LU / SZ / ZG
078 675 30 70 SG / TG / AR / FL
​
ATAX FACILITY-SERVICE
043 288 51 00
DÖRFLISTRASSE 113
8050 ZÜRICH
ATAX FACILITY-SERVICE: Möbellieferung, Möbeltransporte, Möbelaufbau, Möbelmontage, Möbelmonteur, Möbeldemontage, Küchenmontage,
​Küchen-Montage, Küchenmonteur, Heimlieferdienst, Möbelabholdienst, Möbel-Entsorgung, Möbel-Entrümpelung, Möbel-Räumung, Möbeleinpackung, Umzugstransport, Umzüge, Umzugsfirma, Umzugs-Firma, Zügeln, Zügel-Firma, Entrümpelung, Räumung, Entrümpelungsfirma, Räumungsfirma
... in der ganzen Deutsch-Schweiz: Zürich, ZH, Bern, BE, Luzern, LU, Zug, ZG, Schwyz, SZ, Solothurn, SO, Basel-Landschaft, BL, Basel-Stadt, BS,
​Aargau, AG, Thurgau, TG, Schaffhausen, SH, St. Gallen, SG